School News
Soccer Intramurals Kick-off!
Posted on

September 10th, 2013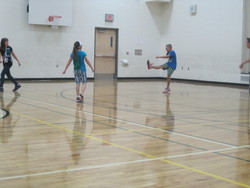 Manchester United versus Chelsea was the opening game of our soccer intramurals this year. About 60 students from Grades 3-6 are split up onto 6 different teams. They will play a round-robin and then we will have a play-off round. Each team is hoping to represent the students when the champions play the teachers at the end. Everyone showed great sportsmanship today and it was the start of a great season.